Keynote Speakers


Prof. Bing Li
Northwestern Polytechnical University, China
Biography: Dr. Bing Li is a professor in the School of Aeronautics at Northwestern Polytechnical University (Xi'an, China). He was elected as a Distinguished Expert of Chinese "Oversea Young Talents Program". He conducted his Post-Doctoral training in 2015-2018 at The University of Akron (Akron, US). He received his Ph.D. in the College of Engineering at Peking University (Beijing, China) in 2015. He received his Joint-Supervision Ph.D. training in the School of AMME at The University of Sydney (Sydney, Australia) in 2013-2014. Dr.Li's current research interests include dynamics of elastic/mechanical metamaterials/metasurfaces, vibration and noise control, wave mechanics, structural health monitoring and advanced composites. He has published >70 scientific papers in top-tier peer-reviewed journals and renowned international conferences, >10 issued or pending patents, >20 invited presentations. Dr. Li is an Editor Board Member for five scientific journals including Frontiers in Physics, J. Compos. Sci. etc. He also served as Guest Editor for Sensors, Conference Chair, Committee Member and Session Chair for >10 international conferences, Reviewer for >30 prestigious journals.


Prof. Yang Xiao
Southwest Petroleum University, China

Biography: Yang Xiao, Professor of School of Mechanical Engineering, Southwest Petroleum University, graduated from Department of Mechanical engineering, Sichuan University in July 1985, majoring in precision machinery design and manufacturing, with a bachelor of Engineering degree. In January 1991, he graduated from the Graduate School of Beihang University with a master's degree in computer graphics. His research direction is computer aided design. In 2000, he was a visiting scholar in visual Computing Laboratory, Department of Computer Science, State University of New York at Stony Brook. Since work mainly for digital design and manufacture of mechanical products, computer aided design, computer graphics, high precision NC machining of free-form surface, Additive material manufacturing application, virtual reality and augmented reality theory and engineering application, mechanical products design and manufacture of digital transformation of the teaching and scientific research work, AI applications in mechanical engingeering. Member of Chinese Society of Engineering Graphics, Member of Council of China Digital Simulation Alliance, member of Computer Graphics Professional Committee of Sichuan Engineering Graphics Society, evaluation expert of science and technology projects in intelligent equipment, aviation and Gas turbine, software and information service of Sichuan Science and Technology Department. Editorial Board of American Journal of Mechanical and Industrial Engineering. In recent years, he has presided over and participated in 26 national, provincial and ministerial research projects. Participated in many international and domestic academic conferences. He has published 6 monographs and textbooks, and over 48 academic papers in core journals at home and abroad.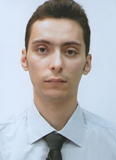 A.Prof. Mohamed Arezki Mellal
M'HamedBougara University, Algeria
Biography: Dr. Mellal is a Ph.D. in Mechatronics. He is an Associate Professor (with Accreditation to Supervise Research) at the Department of Mechanical Engineering, Faculty of Technology, M'Hamed Bougara University, Algeria and Former Visiting Scholar at the Center for Advanced Life Cycle Engineering (CALCE), Department of Mechanical Engineering, University of Maryland, College Park, MD, USA. Likewise, he was a Visiting Scholar at Osaka Electro-Communication University, Japan; Korea Aerospace University, South Korea; and University of Essex, UK. He is a member of the Algerian National Laboratory for Maintenance Education in conjunction with the European Union (Erasmus+). He has published in several journal and conference proceedings. He has authored/edited three books and authored four book chapters. Dr. Mellal was an Invited Keynote Lecturer at the plenary sessions of the Day of Science 2015, Boumerdes, Algeria and in the International Symposium on Technology and Sustainable Industry Development, ISTSID 2019, El-Oued, Algeria. He was a Session Chair for the 2nd and 3rd International Conference on System Reliability and Safety, ICSRS 2017 and 2018, Milan (Italy) and Barcelona (Spain), respectively. He has been selected as Best Reviewer for the International Conference on Vision, Image and Signal Processing, ICVISP 2017 and 2018, Osaka (Japan) and Las Vegas (USA), respectively. He has also been a committee member for over eighty international conferences. He serves as a regular reviewer for twenty-three SCI-indexed journals and an editorial board member of seven peer-reviewed international journals. His research interests include developing new nature-inspired optimization methods for solving engineering problems of system dependability, design, manufacturing, and energy efficiency.